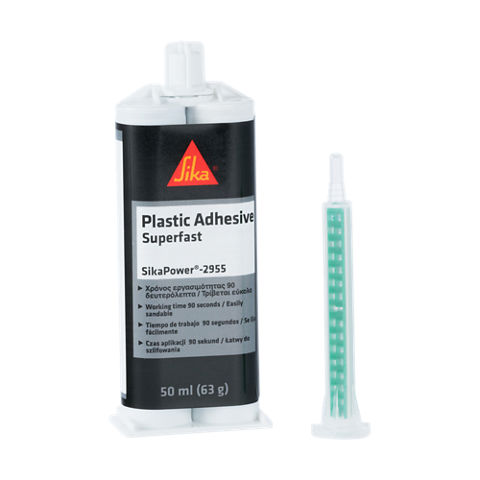 Super Fast Plastic Adhesive
SikaPower®-2955 is a 2-component polyurethane adhesive with excellent adhesion properties. It is specifically designed for plastic repair work on bumpers and other plastic parts.  
Good adhesion to a wide variety of substrates
Fast curing
No running or dripping
Accelerated curing with heat
Excellent sanding ability
PRODUCT BENEFITS
Good adhesion to a wide variety of substrates
Fast curing
No running or dripping
Accelerated curing with heat
Excellent sanding ability
Usage
SikaPower®-2955 is suitable for plastic repair work such as patch repair, clip bonding and reshaping. This product is suitable for experienced professional users only. Test with actual substrates and conditions have to be performed to ensure adhesion and material compatibility.  
Product Details
Typical Product Data
Properties

| | |
| --- | --- |
| SikaPower®-2955 A | SikaPower®-2955 B |

Chemical base
Colour (CQP001-1)
Density
Mixing ratio

A:B by volume

1 : 1

Non-sag properties

Good

Application temperature

10 ─ 30 °C

Working time

1.5 minutes A

Mixer open time

45 seconds A

Sanding time

10 minutes A

Shore D hardness (ASTM D2240)

69

Tensile strength (ISO 527)

26 MPa

Elongation at break (ISO 527)

65 %

Shelf life

24 months B
| | | |
| --- | --- | --- |
| CQP = Corporate Quality Procedure | A) 23 °C / 50 % r.h. | B) storage between 5 – 25 °C |
Technical Information
CURE MECHANISM
The curing of SikaPower®-2955 takes place by chemical reaction of the 2 components.
It cures at ambient temperature. The curing speed can be accelerated by temperature (max. up to 60 °C) using infrared lamps or ovens, e. g. 10 °C higher temperatures would result in approx. doubling the curing speed and cutting in half the open time.
Application
Application Information
Surface Preparation
Abrade surfaces with 80 – 180 grit sanding paper. Clean and degrease the surfaces before applying SikaPower®-2900 Primer. Additional surface treatment depends on the specific nature of the substrates.
Application
Detailed work instruction for plastic repair can be found in the Plastic Repair Guide.
The below information is offered for general guidance only. Advice on specific applications will be given on request.
Extrude adhesive without mixer to equalize the filling levels, attach the mixer and dispose of the first few cm of the bead.
SikaPower®-2955 has to be processed between 10 °C and 30 °C (product, ambient, and substrate temperature).
Dispense SikaPower®-2955 with adequate piston guns. In order to achieve a proper mixing, Mixer Tips for SikaPower®-2900 Series (part of packaging and sold separately) are required.
Removal
Uncured SikaPower®-2955 can be removed from tools and equipment with Sika® Remover-208 or another suitable solvent. Once cured, the material can only be removed mechanically.
Hands and exposed skin have to be washed immediately using hand wipes such as Sika® Cleaner-350H or a suitable industrial hand cleaner and water.
Do not use solvents on skin.