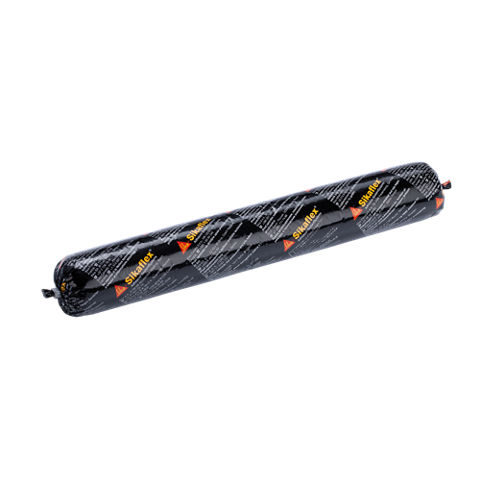 Elastic adhesive for vehicle assembly bonding
Sikaflex®-252 is an elastic 1-component polyurethane adhesive especially designed for bonding large components in vehicle assembly. It is suitable for bonding coated metal, GRP, ceramic materials and plastics.  
Bonds well to a wide variety of substrates
Capable of withstanding high dynamic stresses
Good gap-filling properties
Can be painted
Vibration-damping
Electrically non-conductive
PRODUCT BENEFITS
Bonds well to a wide variety of substrates
Capable of withstanding high dynamic stresses
Good gap-filling properties
Can be painted
Vibration-damping
Electrically non-conductive
Usage
Sikaflex®-252 is suitable for assemblies that are subject to dynamic stresses. Suitable substrate materials are timber, metals, particularly aluminum (including anodized components), sheet steel (including phosphated, chromated and galvanized components), metal primers and paint coatings (2-component systems), ceramic materials and plastics. Seek manufacturer's advice before using on plastics that are prone to stress cracking. This product is suitable for professional experienced users only. Test with actual substrates and conditions have to be performed to ensure adhesion and material compatibility.  
Packaging
Cartridge

300 ml

Unipack
400 ml
600 ml
Pail
23 l
Product Details
Typical Product Data
Chemical base

1-component polyurethane

Colour (CQP001-1)

Black, white

Cure mechanism

Moisture-curing

Density (uncured)

depending on colour

1.2 kg/l

Non-sag properties

Good

Application temperature

ambient

10 ─ 35 °C

Skin time (CQP019-1)

40 minutes A

Open time (CQP526-1)

35 minutes A

Curing speed (CQP049-1)

(see diagram 1)

Shore A hardness (CQP023-1 / ISO 48-4)

50

Tensile strength (CQP036-1 / ISO 527)

3 MPa

Elongation at break (CQP036-1 / ISO 527)

400 %

Tear propagation resistance (CQP045-1 / ISO 34)

7 N/mm

Tensile lap-shear strength (CQP046-1 / ISO 4587)

2.5 MPa

Service temperature (CQP509-1 / CQP513-1)

 

4 hour

1 hour

-40 ─ 90 °C 

130 °C 

150 °C

Shelf life

12 months B
| | | |
| --- | --- | --- |
| CQP = Corporate Quality Procedure | A) 23 °C / 50 % r. h. | B) storage below 25 °C |
Technical Information
CURE MECHANISM
Sikaflex®-252 cures by reaction with atmospheric moisture. At low temperatures the water content of the air is generally lower and the curing reaction proceeds somewhat slower (see diagram 1).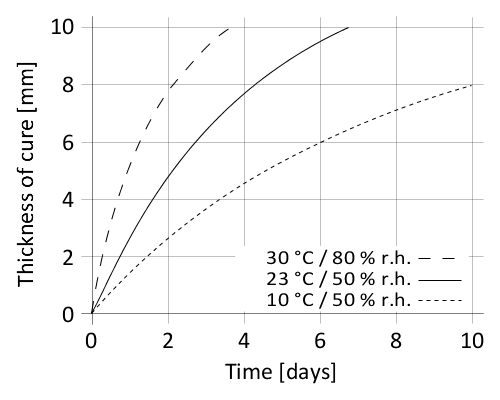 Diagram 1: curing speed Sikaflex®-252
CHEMICAL RESISTANCE
Sikaflex®-252 is generally resistant to fresh water, seawater, diluted acids and diluted caustic solutions; temporarily resistant to fuels, mineral oils, vegetable and animal fats and oils; not resistant to organic acids, glycolic alcohol, concentrated mineral acids and caustic solutions or solvents.
Application
Application Information
Surface Preparation
Surfaces must be clean, dry and free from grease, oil, dust and contaminants.
The surface treatment depends on the specific nature of the substrates and is crucial for a long lasting bond. Suggestions for surface preparation may be found on the current edition of the appropriate Sika® Pre-treatment Chart. Consider that these suggestions are based on experience and have in any case to be verified by tests on original substrates.
 
Application
Sikaflex®-252 can be processed between 10 °C and 35 °C (climate and product) but changes in reactivity and application properties have to be considered. The optimum temperature for substrate and adhesive is between 15 °C and 25 °C.
Consider that the viscosity will increase at low temperature. For easy application, condition the adhesive at ambient temperature prior to use. To ensure a uniform thickness of the bondline it is recommend to apply the adhesive in form of a triangular bead (see figure 1).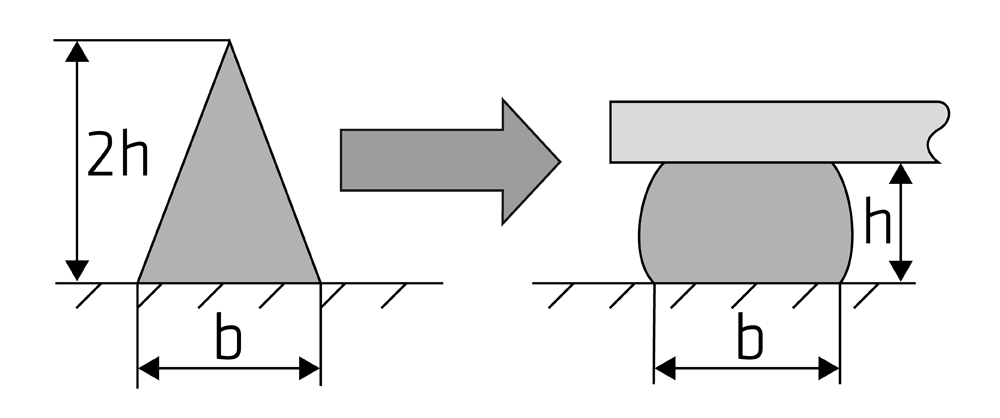 Figure 1: Recommended bead configuration
Sikaflex®-252 can be processed with manual, pneumatic or electric driven piston guns as well as pump equipment. The open time is significantly shorter in hot and humid climate. The parts must always be installed within the open time. Never join bonding parts if the adhesive has built a skin.
Tooling and finishing
Tooling and finishing must be carried out within the skin time of the product. It is recommended using Sika® Tooling Agent N. Other finishing agents must be tested for suitability and compatibility prior the use.
Removal
Uncured Sikaflex®-252 can be removed from tools and equipment with Sika® Remover-208 or another suitable solvent. Once cured, the material can only be removed mechanically. Hands and exposed skin have to be washed immediately using hand wipes such as Sika® Cleaner-350H or a suitable industrial hand cleaner and water.
Do not use solvents on skin.