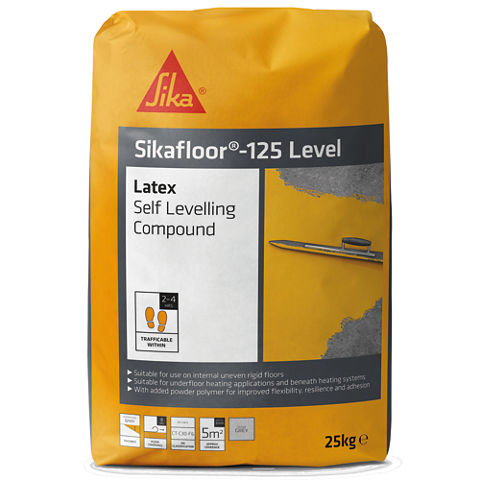 Sikafloor®-125 Level Latex
SELF LEVELLING COMPOUND WITH ADDED POLYMER POWDER.
Sikafloor®-125 Level Latex is a ready to use (just add water) latex-modified smoothing and levelling compound for advanced flexibility and resilience. It is suitable for smoothing and levelling uneven rigid internal floors prior to applying final wearing coverings.
Self-smoothing and highly fluid.
Easy to place by pump or manual application.
Low shrinkage.
Maintains good workability and joint healing throughout its pot life.
Fast setting and drying.
Good surface appearance and hardness.
Excellent freeze-thaw salt resistance.
Protein and formaldehyde free.
Underfloor heating applications beneath heating cables/pipes or on top of heated screeds.
Time for Foot Traffic: 2-4 hours at +20 °C
Time for Coverings: 8 hours
Application Thickness: Feathered edge to 6 mm (25 mm filled) Water Addition: 5 L per 25 kg bag.