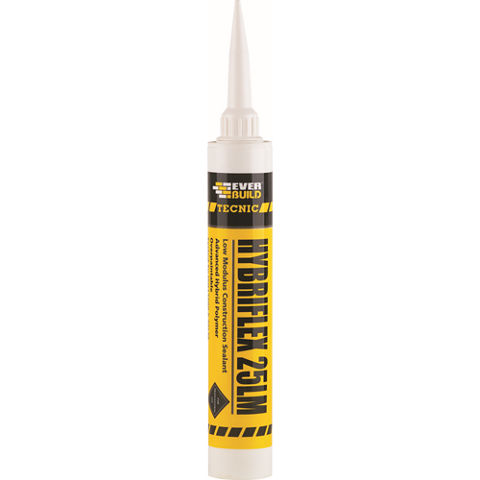 Everbuild Tecnic® Hybriflex 25LM
An advanced hybrid polymer building sealant
Everbuild Tecnic® Hybriflex 25LM is a one part, low modulus, chemically curing sealant combining the best qualities of silicone and polyurethane technologies. It is specifically designed for adhering most common building surfaces to each other and themselves.
High bonding strength.
Interior and exterior use.
Can be applied to damp surfaces.
Totally waterproof & weatherproof.
Quick curing.
Overpaintable if required.
Permanently flexible.
Resistant to chemicals & petrol (10 % dilute acids/alkalis, most solvents).
Excellent primer less adhesion to most surfaces, including metals, most plastics, glass, concrete, plaster, plasterboard, polyester, perspex, glass, wood, enamel, painted surfaces etc.
Consistency
Paste
Compatibility with paints
Water Based: Yes (test compatibility) Solvent Based: No (with alkyd paints)