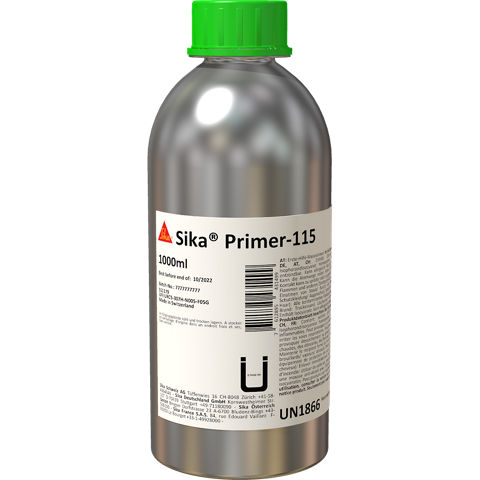 Transparent 1-part reactive polyurethane primer.
Sika® Primer-115 is a 1-part transparent reactive PU based primer.
Easy to apply
Clear finish
Short flash-off time
Usage
The Product is used as a:
Pre-treatment on porous substrates before Sikaflex® applications.
  The Product is used as a primer for the following substrates:
Concrete and cementitious substrates.
Brick masonry.
Cut asphalt (according to EN 13108-1 and EN 13108-6 with minimum 50 % aggregates on the surface).
Advantages
Easy to apply
Clear finish
Short flash-off time
Packaging
1000 ml bottle: 4 bottles per box
Refer to the current price list for available packaging variations.
Product Details
Product Information
Chemical Base
Solvent-based reactive 1-part polyurethane Primer based on Sika® Purform® technology.
Monomeric diisocyanate content <0.1 %: no user safety training needed (REACH restriction 2023, Annex XVII entry 74)
Shelf Life
9 months from the date of production
Storage Conditions
The product must be stored in original, unopened and undamaged packaging in dry conditions at temperatures between +5°C and +25°C. Always refer to packaging.
Application
Application Information
Product Temperature
| | |
| --- | --- |
| Maximum | +40 °C |
| Minimum | +5 °C |
Substrate Temperature
| | |
| --- | --- |
| Maximum | +40 °C |
| Minimum | +5 °C |
Note: During application and cure the temperature of substrate must be minimum +3 °C above the dew point.
Consumption
Yield
| | | |
| --- | --- | --- |
| Substrate type | Surface area | Linear metre joint |
| Porous | ~5 m2 / 1 L bottle | ~250 m / bottle |
| Non porous | ~8 m2 / 1 L bottle | ~400 m / bottle |
Application steps
SUBSTRATE PREPARATION
The substrate must be clean, dry, sound and free from oils, grease, dust, cement laitance and loose or friable particles.
Note: Primers and activators are adhesion promoters and not an alternative to improve poor preparation or cleaning of the joint surface. Primers also improve the long term adhesion performance of the sealed joint.
APPLICATION
Apply a single coat to the prepared substrate using either a clean brush or roller. Tightly re-seal container immediately after each use.
Use within 1 month after opening the container. Discard any primer that has gelled or separated.
CLEANING OF TOOLS
Clean all tools and application equipment immediately after use. Hardened material can only be removed mechanically.