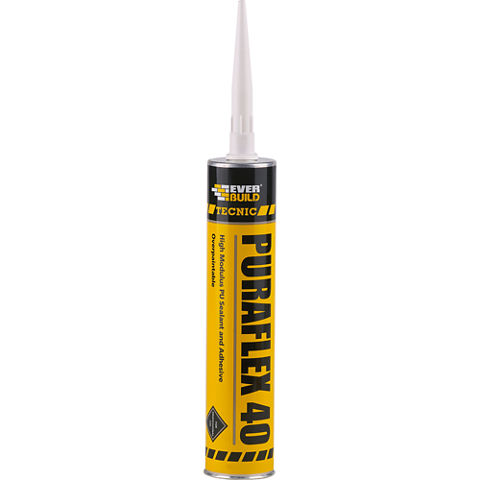 Everbuild Tecnic® Puraflex 40
High modulus polyurethane sealant and adhesive
Everbuild Tecnic® Puraflex 40 is a high modulus, one component, PU sealant and adhesive which adheres strongly to most substrates. Provides excellent mechanical resistance (Shore A 30-40), resistance to most common chemicals and can be overpainted when cured.
Bonds to concrete, wood, metal, aluminium, polyester, glass, uPVC, stone, ceramics, etc.
Over paintable with gloss and emulsion.
Good sea water resistance.
Can be over painted with oil and latex paints.
Specifically designed as an easy flow flooring grade for all concrete saw cuts and floor slab expansion joints, where abrasion resistance is required.
Coverage
Joint size in mm
Litre per metre run
Metre per tube
5 x 5 0.025 12.0 5 x 10 0.050 6.0 10 x 100.13.015 x 100.152.020 x 100.21.5                                                                                                                                                                                                                                         
Shrinkage
Maximum 10 %
Elasticity Modulus 100 %
0.60 N/mm²
Paintability
Water Based - Yes
Solvent Based - Trial Necessary