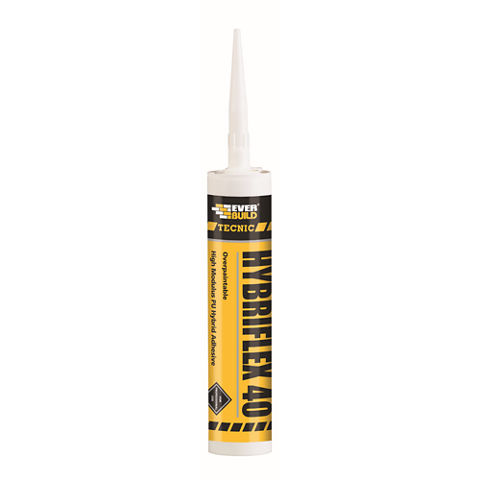 Everbuild Tecnic® Hybriflex 40
A high modulus, one component, hybrid based adhesive
Everbuild Tecnic® Hybriflex 40 is a high modulus, one component, hybrid based adhesive which adheres strongly to most substrates. Provides excellent mechanical resistance, resistance to most common chemicals and solvents and can be overpainted when cured.
Excellent chemical resistance.
Excellent resistance to solvents when cured.
Bonds to concrete, wood, metal, aluminium, polyester, glass, uPVC, stone, ceramics, etc.
Over paintable with gloss and emulsion paints - preliminary test required before use.
Curing System
Moisture Cure
Shrinkage: ISO 10563
<5%
Application Temperature:
5˚C to 30˚C
Elasticity Modulus: ISO 8339
~1.0 Mpa
Resistance to Acids/Bases/Solvents:
Average. Mild acids/ bases at < 10% concentration
Paintability
Water Based - Yes
Solvent Based - Trial Necessary