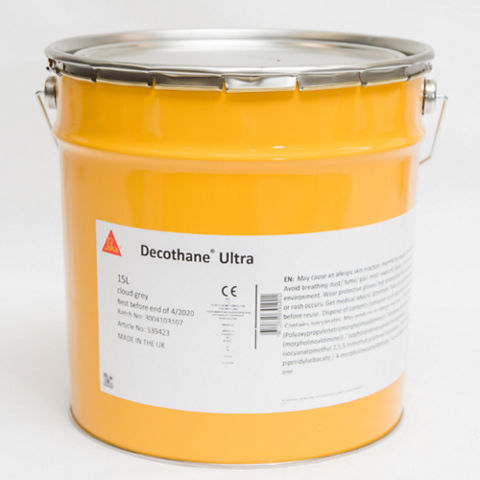 HIGH PERFORMANCE, ONE-COMPONENT, HIGH SOLIDS, UV-STABLE, LIQUID APPLIED POLYURETHANE WATERPROOFING MEMBRANE WITH LOW ODOUR
Decothane® Ultra is a cold-applied, one-component,seamless, highly elastic, UV stable and moisture-triggered polyurethane membrane with significantly reduced odour.  It cures to form a seamless, durable and weather-resistant waterproofing solution for exposed roof areas
Low maintenance
One component - no mixing, easy and ready to use
Cold applied – requires no heat or flame
Minimal odour - suitable for odour sensitive projects
High solids
Seamless membrane
Compatible with Sika® Reemat Premium – easy to detail
Easily recoated when needed - no stripping required
Elastic - retains elasticity even at low temperatures
Good adhesion to most substrates – see table
Free from rain damage almost immediately on application (see table)
Usage
Decothane® Ultra may only be used by experienced professionals.  For roof waterproofing solutions in both new construction and refurbishment projects
For roofs displaying complex detail areas, even when accessibility is limited
For cost efficient life cycle extension of failing roofs
For odour sensitive areas
For insulated and non-insulated roof designs
Advantages
Low maintenance
One component - no mixing, easy and ready to use
Cold applied – requires no heat or flame
Minimal odour - suitable for odour sensitive projects
High solids
Seamless membrane
Compatible with Sika® Reemat Premium – easy to detail
Easily recoated when needed - no stripping required
Elastic - retains elasticity even at low temperatures
Good adhesion to most substrates – see table
Free from rain damage almost immediately on application (see table)
Packaging
15 Litre Metal Pails
Colour
Slate grey (RAL 7015); Dove Grey (RAL 7040); Shale Grey (RAL 8500); White, (RAL 9016); other colours available upon request
Application
Application Information
Ambient Air Temperature
+2°C min/+40°C max
Relative Air Humidity
20% min/85% max
Substrate Temperature
+2°C min/+60°C max
Dew Point
Beware of condensation.  surface temperature during application and cure must be a minimum of 3°C above dew point.
Substrate Moisture Content
Wood moisture equivalent (wme) (max): <28%
Pot Life
Decothane® Ultra is designed for fast drying.  High temperatures combined with high air humidity will increase the drying process. Thus, material in opened containers should be applied immediately.  In opened containers, the material will form a film within 1 hour.
Waiting Time / Overcoating
~48 hours.  For longer periods ≤ 14 days, the surface must be reactivated with Sika Reactivation Primer.
Applied Product Ready for Use
| | | | | |
| --- | --- | --- | --- | --- |
| Temperature | Relative Humidity | Rain Resistant | Overcoating Time | Full Cure |
| +5°C | 50% | ~1 hour | Overnight | ~24 hours |
| +10°C | 50% | ~1 hour | ~8-10 hours | ~12-24 hours |
| +20°C | 50% | ~1 hour | ~4-6 hours | ~12-18 hours |
Times are approximate and will be affected by changing ambient conditions particularly temperature and relative humidity.
*Be aware that heavy rain or rain showers can physically mark or damage the still liquid coating
Application at heavier than recommended thicknesses may result in a prolonged soft feeling to the coating.  This will eventually cure.
Application steps
EQUIPMENT
For best results apply Decothane® Ultra by brush (for details and penetrations) or roller.  Rollers should be disposable medium pile simulated sheepskin.
SUBSTRATE PREPARATION
General
All dust, loose and friable material must be completely removed form all surfaces before application of the product and associated system products, preferably by vacuum extraction equipment.
To confirm adequate surface preparation and Decothane® Ultra adhesion, carry out a preliminary trial before application together with adhesion tests as required.
Prior to the application of Decothane® Ultra embedment coat  the substrate must be prepared and the priming coat must have cured tack-free.  For the waiting time/overcoating please refer to the technical datasheet of the appropriate primer.
Cementitious Substrates
Laitance, other loose friable material and weak concrete must be completely removed and surface defects such as blowholes and voids must be fully exposed.  In severe cases use abrasive blast cleaning, grinding or scarifying equipment to achieve a sound surface.
Repairs to the substrate, filling of joints, blowholes/voids and surface levelling must be carried out using appropriate products.
High spots must be removed e.g. by grinding.
Outgassing is a naturally occurring phenomenon of concrete that can produce pinholes in subsequently applied coatings.  The concrete must be carefully assessed for moisture content, air entrapment, and surface finish prior to any coating work.  Any requirement for priming must also be considered.  Installing the membrane either when the concrete temperature is falling or stable can reduce outgassing.  It is generally beneficial, therefore, to apply the embedment coat in the late afternoon or evening.
Brick and Stone
Thoroughly clean by power wash and allow to dry. Where there is a risk of algal re-growth on absorbent surfaces use Liquid Plastics Biowash.  Please refer to the Biowash Technical Datasheet for further information. Repair any spalling, flaking or other damage and replace any missing jointing.
Asphalt
Thoroughly clean using by power wash and allow to dry. All major cracks should be sealed to allow continuity of the Decothane System. Asphalt must be carefully assessed for moisture and/ or air entrapment, grade and surface finish prior to any coating works being carried out. Any priming requirement must also be considered.
Bituminous Felt
Thoroughly clean using by power wash and allow to dry. Existing felt surfaces that are badly cracked, degraded or where blistering has occurred, should be locally removed back to a sound, straight cut, well adhered edge and replaced with Carrier Membrane S-Vap.
Single Ply
The Single Ply should be prepared in accordance with the Specification provided for the individual project.
Bituminous Coatings
Remove loose, degraded, tacky or mobile coatings. Apply the Decothane System directly.
Metals
Steelwork is ideally prepared to Sa2½ (Swedish Standard SIS 05: 5900 = 2nd quality BS4232 = S.S.P.C. grade SP10) OR as indicated by the blasting specification which may be of a higher standard.  Where blasting to Sa2½ (Swedish Standard SIS 05: 5900 = 2nd quality BS4232 = S.S.P.C. grade SP10) is not permitted alternative blast media or clean metal preparation by pin hammer, etc. is acceptable.  Less effective methods of preparation that leave corrosion in-situ may reduce expected life term.
Dull galvanised surfaces can usually be treated with Sika Metal Primer directly following adhesion test. Bright or new galvanised surfaces may require mordant solution.
Non-ferrous metals are prepared as follows.  Remove any deposits of dust and oxidation and abrade to bright metal.  Wire brushing can be used for soft metal such as lead.  The surface must be clean and free from grease which, if present, must be removed with a proprietary solution.  Wash with detergent, rinse thoroughly and dry.
Timber Substrates
Timber and timber based panel roof decks require a complete layer of Carrier Membrane prior to the application of the chosen system.  The substrate should then be treated as a felt roof.  Small timber protrusions may be treated directly, provided that the timber is of exterior quality, e.g. marine plywood, (see Substrate Priming for further information).
Paints/Coatings
Remove loose or degraded coatings returning to a firm, feathered firm edge. Remaining coatings are only be overcoated if soundly adhered. Ensure the surface is clean and free from grease.
Existing Decothane Systems
Clean the membrane using a water jet at approximately 14N/mm2 (2000 p.s.i) using detergent and rinse thoroughly. Thoroughly clean by power wash and allow to dry.
Note: For the Waiting Time/Overcoating please refer to the technical datasheet of the appropriate cleaner. Other substrates must be tested for their compatibility. If in doubt, apply a test area first.
MIXING
Decothane® Ultra is supplied ready for use and mixing is not required, however, if the product is settled or separated on opening, stir Decothane® Ultra gently but thoroughly in order to achieve a uniform colour.
APPLICATION
Prior to the application of Decothane® Ultra the priming coat, if used, must have cured tack-free.  For the Waiting Time/Overcoating, please refer to the PDS of the appropriate primer.
Damageable areas (handrails etc) have to be protected with tape or plastic wrapping.
Please note, always begin with details prior to the installation of the horizontal surface.
Apply embedment coat of Decothane® Ultra.  Work only so far in advance that the material stays liquid.
Roll in the Sika Reemat.  Overlap the Reemat a minimum 50mm and ensure overlaps are sufficiently wet to bond both layers.
The rolller may require only a little extra material to keep wetted but no further siginficant material needs to be added at this stage.
After the coat is dry enough to walk on, seal the roof area with further coats of Decothane® Ultra dependant of the specified system.
CLEANING OF TOOLS
Clean all tools and application equipment with proprietary cleaning solvent immediately after use.  Hardened and/or cured material can only be removed mechanically.