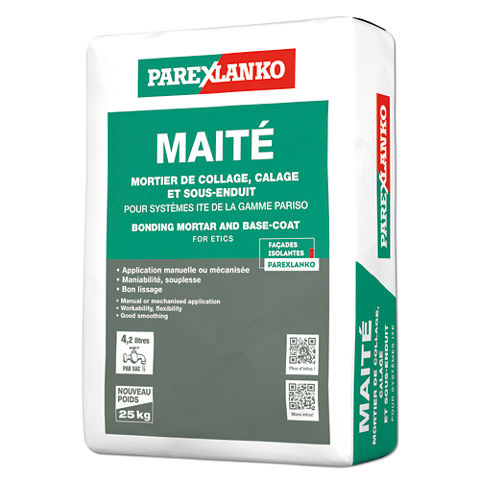 INSULATION ADHESIVE, BASE COAT AND FINISHING COAT
MAITE is a highly flexible multi-purpose coloured, breathable and weatherproof mortar in powder form ready to mix with water. It can be used for a range of applications but is intended to be used in the Parextherm and Parexdirect render systems
High weather resistance
high grab factor enabling it to be built up in thin layers for bonding to a multitude of substrates
Usage
Adhering the insulation for Parextherm EWI systems
Creating a base coat with the 355 AVU mesh.
Creating decorative coloured finishes by hand or spray machine.
Using as a dash receiver with the MARBRI dash aggregates.
Adhering PAREX® profiles.
Advantages
High weather resistance
high grab factor enabling it to be built up in thin layers for bonding to a multitude of substrates
Product Details
Product Information
Composition
Coloured or white cement based powder of micronised vinyl copolymer, calcareous and siliceous sands, co-polymer mineral pigments and specific admixtures.
Shelf life
12 Months from date of manufacture
Storage conditions
Dry frost free conditions
Maximum grain size
Granulometry : 0 - 1.6 mm
Technical Information
Reaction to fire
Can Acheive A2 when used as part of Parextherm or Parexdirect systems.
Application
Consumption
Consumption
These values are provided as guidance only and may vary subject to substrate conditions, thickness applied and system installed.
As an insulation adhesive - 2.6 kg/m2 (7.1- 9.6 m2 per 25 kg bag) 
For making the base coat with mesh - 4.5 kg/m2 (2.9 - 5.5 m2 per 25 kg bag) 
For making a top coat finish - 2.6 kg/m2 (7.1- 9.6 m2 per 25 kg bag) 
PLEASE NOTE: on uneven substrates the consumption rate may significantly increase to gain a level and lined surface.
Application steps
EQUIPMENT
EQUIPMENT REQUIRED
Slow speed electric paddle mixer.
Stainless steel smoothing trowel and spatula.
Stainless steel notched plastering trowel (trapezoid notches of 8 mm).
Spray render machine - can also be used for applying the decorative Textured or Smooth Textured finish.
Clean tools in water after use.
APPLICATION
PRODUCT PREPARATION 
Water dosage: about 4.2 litres of clean water per 25 kg bag.
Mixing: about 5 minutes to create a creamy smooth consistency.
Rest time: 5 minutes before use.
Mixture usage: 30 minutes depending on climatic conditions.
MAITE has the following uses:
As an adhesive for bonding insulation, either with dabs or as a full adhesive notched layer. Creating a reinforced base coat for the PAREXTHERM, PAREXDIRECT renders systems and PAREX®  brick slip systems or alternative brick slip systems when used.
For creating a decorative sprayed top coat finish, from a heavy wet cast appearance to a Tyrolean effect or as a bonding coat for the MARBRI dry or wet dash render systems.
Creating a reinforced, coloured base coat for the MARBRI dry or wet dash render systems.
As an adhesive for the PAREXTHERM Mineral, PAREXTHERM Acrylic, PAREXTHERM Marbri render systems and PAREX® brick slip systems:
Notched - Suitable when applying to flat substrates or on render board applications - Apply a minimum 3 mm layer onto the back of the insulation board and using an 8 mm notched plastering  trowel create vertical strips in the adhesive. Immediately press the insulation board onto the substrate ensuring the notched effect runs vertically as this creates a natural drainage channel system. Ensure a good bond is achieved by applying a light side to side movement to the insulation.
Dabs – Apply a minimum of 5 large and even thickness dabs and a perimeter layer to the back of each insulation board to provide at least 50 % coverage, then apply the board to the substrate. Ensure a good bond is achieved.
Base coat with mesh - For the PAREXTHERM Mineral, Acrylic & Marbri render systems, PAREXDIRECT Mineral, Acrylic & Marbri render systems and PAREX® brick slip systems:
Apply a minimum of 2 layers embedding the mesh near to the front face of the base coat and in compliance with the specifications, taking into account exposure to the elements.
Use the notched plastering trowel to ensure a regular thickness of 3 mm is created before the application of the mesh and that an even thickness is achieved after trowelling in the mesh to leave a smooth, regular, lined and level finish for DPR / REVLANE+ finishes. For receiving the EHI GM / EHI GF applications leave a combed  surface finish. Minimum thickness of base coat: PAREXTHERM systems: 3 - 4 mm, PAREXDIRECT  systems: 4 - 5 mm.
Textured/Smooth Textured finish:
Apply a base coat with mesh as detailed above.
Spray MAITE with the help of a spray render machine.
The spraying is carried out in a 'tyrolean' style with a minimum of 2 coats to achieve the desired textured effect.  The 'Smooth Textured' effect is obtained by passing a stainless steel smoothing trowe lover the surface of the slightly hardened 'Textured' effect surface.
MARBRI dash coat finishes
Apply a base coat with mesh as detailed above.
Spray or hand apply a minimum 4 - 5 mm coat of MAITE to suit the size of dash being applied.Level and line the surface.
While the MAITE is still wet, apply the required dash finish, ensuring a full covering is achieved. If required, lightly press the dash finish into the MAITE using a floating trowel. For a wet dash effect mix  the dash into the MAITE and apply as above. 
For use as an adhesive for the PAREX® PROFILES: 
Mix to a heavy paste - like consistency. Apply an approximate 3 - 4 mm toothed trowel layer to the back of the profile and press into place. (MAITE has sufficient adhesion to hold most shapes in  place. Larger shapes may require additional support). 
Allow a minimum cure period of 24 hours BEFORE performing any additional work on the adhered shape. For full applications details consult the information detailed on the PAREX PROFILES data sheet.
Top coat finishes:
All REVLANE finishes, use with REVLANE REGULATEUR primer.
EHI GM and EHI GF.