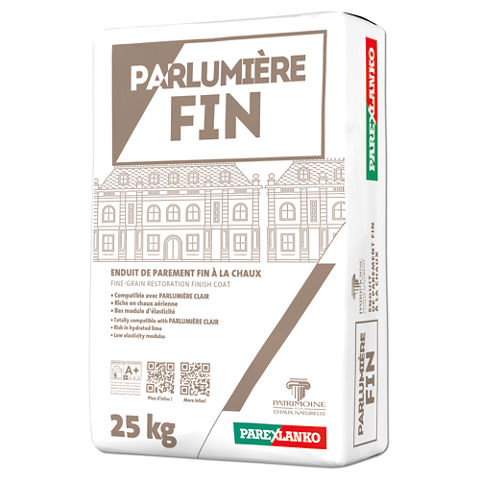 FINE FINISH THROUGH COLOURED HYDRAULIC LIME RENDER, RE-POINTING AND BEDDING MORTAR
Through coloured hydraulic lime render offering a finer finish due to its smaller granular matrix. Can also be used as a bedding mortar for brickwork, stone and other suitable masonry.
Suitable for heritage work
Environmental benefits
Manual/Machine application
Usage
Lime Render
Bedding Mortar
Advantages
Suitable for heritage work
Environmental benefits
Manual/Machine application
Colour
FINISHES
Fine Scraped
Sponge or Float smoothed(1)
Trowel smoothed(1)
Spray Textured
Smooth Spray Textured
For additional information refer to the data sheet on TEXTURED MINERAL FINISHES.
(1)The float/sponge/trowel smoothed finishes
may vary in appearance, particularly due to different factors such as the line and level and condition of the substrate or the appearance of a slurry finish caused by over floating the surface. The latter may produce some micro cracking effect on the render surface which may affect the aesthetical appearance but does not affect its durability.
Product Details
Product Information
Composition
Binder: hydrated lime + hydraulic binder (lime/binder ratio > 74 % by volume)
Filler: calcareous and siliceous sand
Light mineral additives
Organic additives: less than 0.2 %
Mineral pigments
Shelf life
12 Months from date of manufacture 
Storage conditions
Dry frost free conditions
Grain size distribution
0 - 2.5 mm
Application
Consumption
Consumption
COVERAGE
These values are provided as guidance only and may vary subject to substrate conditions and thickness applied.
Float Smoothed 21 kg/m2 1.2 - 1.3 m2 @ 15 mm/25 kg bag - 14 kg/m2  1.9 – 2.0 m2 @ 10 mm/25 kg bag
Scraped 25 kg/m2 1.0 – 1.1 m2 @ 15 mm/25 kg bag - 18 kg/m2  1.4 – 1.5 m2 @ 10 mm/25 kg bag
Application steps
EQUIPMENT
Manual application: stainless steel trowel/float.
Mechanical application:

| | | |
| --- | --- | --- |
| MECHANICAL APPLICATION | SPRAY RENDER MACHINE | SPRAYING POT |
| Pump pressure | 6 – 8 bars (water) | |
| Air flow | | 60 m3 per hour minimum |
| Air pressure | | 4 – 6 bars |
SUBSTRATE PREPARATION
Substrates must be clean, sound, dust-free and free of any material which may prevent adhesion.
Remove all traces of plaster, paint, etc.
Construction of the masonry must comply with BS 8000-3.
On low suction substrates e.g. shuttered concrete or high suction substrates e.g. lightweight aircrete or clay blockwork, first apply a coat of ready-to use FIXOPIERRE or a PARLUMIERE FIN key coat made up by adding 0.5 L of FIXOPIERRE to the mixing water volume for 25 kg bag of PARLUMIERE FIN.
On wet or wet patchy substrates or where different materials have been used it is advisable to apply a key coat of FIXOPIERRE for the mixing volume for a 25 kg bag of FIXOPIERRE.  Allow the key coat to fully dry a minimum of 48 hours before the application of the next coat.
TV10 MESH may also be required, dependent upon substrate condition and project specification.
Check soundness, remove all loose material e.g. paint, organic coverings, plaster. Clean cracks and fill with PARLUMIERE CLAIR or PAREXAL, at least 7 days prior to application of facing.
Spray with water the day before until saturated, but not so the wall is running with water.  Repeat prior to application, ensuring that substrate is wet through.
Follow recommendations in BS EN 13914-1.
MIXING
Machine mixing time: 5 minutes
Cement mixer mixing time: 5 – 7 minutes
APPLICATION
On hardened/cured render coating – thickness 5 to 10 mm maximum.
Apply one compact coat in 1 or 2 layers (2nd layer whilst 1st is still fresh), depending on finish required.
On repaired hardened/cured render coating – thickness 10 to 12 mm maximum.
For joints between bricks and facing stones.
Refill joints in one layer of 10 to 30 mm, compacting with a trowel.  Brush after drying.
Drying time before covering the following base coats.
PARLUMIERE CLAIR: 3 to 10 days.
PARLUMIERE STH: 7 days minimum.
PARINTER RENOVATION: 3 to 10 days.