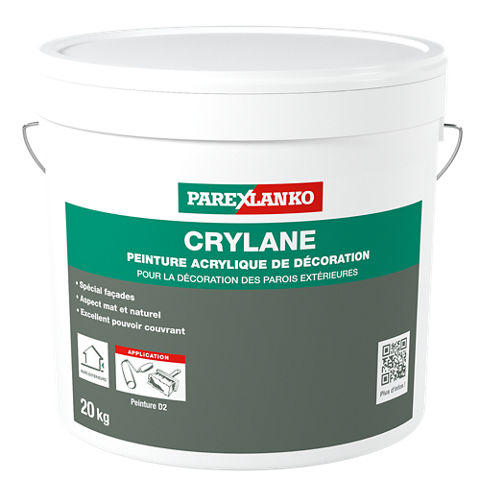 Acrylic Based Paint
An acrylic binder paint specially designed for new and existing building façades with excellent coverage. Can be used pure or diluted with water.
Ready to use 
Range of colours available
Usage
Exterior and interior use.
For overcoating one-coat coloured renders
Advantages
Ready to use 
Range of colours available
Packaging
20kg Plastic Bucket
Product Details
Product Information
Composition
Liquid comprising acrylic styrene copolymer binder in aqueous dispersion, pigments and specific admixtures.
Shelf life
12 Months from date of manufacture if stored in unopened original packing.
Storage conditions
Dry frost free conditions and protected from high temperatures (+ 35 °C max.)
 
Application
Application Information
Substrates
SUITABLE SUBSTRATES
For overcoating one-coat coloured renders. Please note; There is no colour correlation between a mineral render colour and an acrylic binder paint so any colour matching will be a nearest match. Always conduct a trial sample area first to check the colour meets your needs.
Suitable base coat renders.
In situ and pre-formed concrete.
Parex® profiles.
UNSUITABLE SUBSTRATES
Cracked or glazed substrates.
Old flexible acrylic covering materials.
SUBSTRATE PREPARATION
Substrates must be clean, dry, and free from dust and dirt.
Remove all loose, flaking and powdery elements.
According to their nature and condition, substrates may need to be cleaned by sandblasting, brushing, sanding or high pressure water.
For renovation work, remove all traces of dirt, paint and old covering materials.
In the event of algae or moss substrates must be thoroughly cleaned with Sika® Mouldbuster.
PRIMING
• Prime the substrate with a base coat of CRYLANE diluted with 10-15 % water.
Drying time
24 hours under normal conditions.
High humidity and low temperatures extend drying time.
Consumption
Consumption
These values are provided as guidance only and may vary subject to substrate conditions and method of application.
0.3 kg per m² per coat on a flat substrate.
Or per bucket as follows
20 kg Bucket – 60 - 70 m²
Spray applications will provide approx 20 % increased coverage.
Application steps
EQUIPMENT
• Long-hair roller.
• Brush.
• Clean tools with water after use.
MIXING
Thoroughly mix the product in the bucket until it is of an even consistency.
APPLICATION
Using a brush or roller, apply one or two coats of CRYLANE to the primed surface.
On rough surfaces (e.g. sprayed render) dilute CRYLANE with 5 % water. to ease application.
Always maintain a wet edge and work to corners and joints.
Subject to weather conditions, CRYLANE will be touch-dry in approximately 6 hours and further coats applied after approximately 24 hours at +20 °C and 65 % relative humidity.
CLEANING OF EQUIPMENT
Water soluble prior to drying.