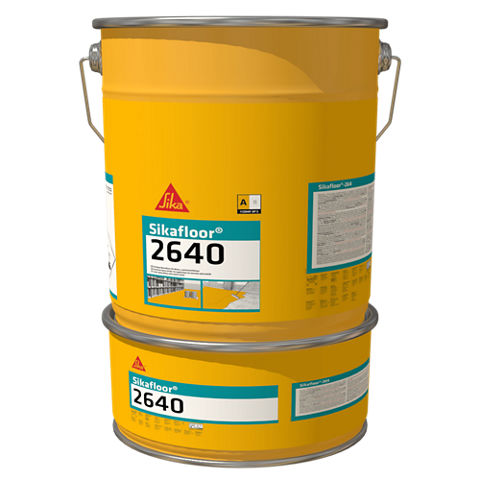 Epoxy high build textured fast curing floor coating and seal coat
Sikafloor®-2640 is a 2-part, epoxy, coloured, high build, slightly textured, fast curing floor coating and seal coat. It provides a hard wearing, seamless, low maintenance, slip resistant gloss finish when broadcasted with different aggregate grades. Varying thickness's can be achieved from 0.6–0.8 mm. For medium - heavy wear conditions. Internal use.
Fast curing
Low odour
Low emission
Low yellowing
Improved blush resistance
Seamless and hygienic
Good mechanical resistance
Easy application by roller and squeegee
Gloss finish
Slip resistant surface to suit clients requirements
Low maintenance
NEW SIKA COATING AND SEAL COAT SYSTEM REPRESENTS NEW LEVEL OF FLOORING EXCELLENCE
Sika has launched the next generation of enhanced performance, faster cure floor coatings that are suitable for a range of applications where safety and durability are paramount.

Sikafloor®-2640 is a two-part, epoxy floor coating and seal coat which is notable for its easy application in addition to its hard-wearing, long-term performance.
With excellent blush resistance and zero pigment flotation, Sikafloor®-2640 provides either a seamless smooth, high gloss finish, or a range of slip resistant profiles for areas where optimum mechanical and chemical resistance is required, such as car park decks, warehouses and manufacturing facilities, food and drink manufacturing plants, airport hangers, workshops and garages.

Sikafloor®-2640 has been developed using low emission resin, increasing its sustainable credentials which are further enhanced by its low odour properties. A range of thicknesses can be achieved with this system, depending on the anticipated wear.
For hygiene-critical areas used for food and drink manufacture, it is vital the flooring is low maintenance and easy to clean: Sikafloor®-2640 has both aspects covered.
Accredited to standards EN 15404-2: surface protection product for concrete – coating; and EN 13813: resin screed material for internal use in buildings; Sikafloor®-2640 is the solution when reliable performance and a rapid and easy application are a prerequisite.