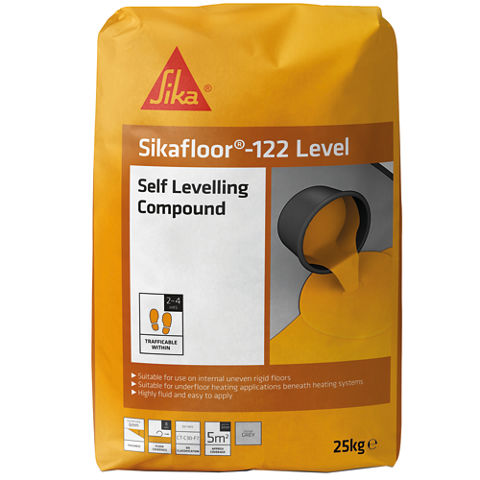 MULTI-PURPOSE SELF LEVELLING COMPOUND
Sikafloor®-122 Level Self Levelling Compound is a 1-part, ready to use, protein free, cement based, self leveller for floor smoothing
and levelling uneven rigid internal floors prior to applying final wearing coverings such as carpets, sheet vinyl, lino, tiles, laminates and timber.
Self smoothing and highly fluid.
Easy to place by pump or manual application.
Ready for use.
Low shrinkage.
Maintains good workability and joint healing throughout its pot life.
Fast setting and drying.
2-4 hours walk on time (+20°C).
Good surface appearance and hardness.
Excellent freeze-thaw salt resistance.
Protein and formaldehyde free.
Underfloor heating applications beneath heating cables/pipes or on top of heated screeds
SUBSTRATE MOISTURE CONTENT
The substrate can be in a SSD (saturated substrate dry) condition, but there must be no rising moisture prior to the dampening operation according to ASTM D 4263 (Polyethylene-sheet test).
For further information please refer to the Product Data Sheet of the primer used.
DEW POINT
Beware of condensation! The substrate and uncured floor must be at least 3°C above dew point to reduce the risk of condensation, blooming or cement laitance on the floor finish.